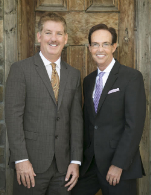 "Rike and Jonathan have been my "go-to" real estate professionals since 2010. I know I can count on them for solid advice, a proactive approach, and unparalleled skill in completing successful win-win transactions. When one is doing several transactions each year, it's great to be able to rely on this trustworthy team." - Lauren Immel
"Rike Palese was the best Realtor I have ever worked with. He was extremely knowledgeable about every area of the city, down to the streets, extremely patient with no high pressure, extremely competent in his expertise and negotiations, extremely reputable with each and every person that has ever done business with him, and extremely responsive, a rarity in this fast paced real estate market. I would recommend him highly to anyone." - Bill and Susan Sipple
"Rike, Now that our journey is almost at an end, I wanted to thank you for a job superbly done. Without your commitment to finding the right house for us, I would not have been here in this beautiful place. Although Bill knew right from the start, I needed to do the shopping around to make me comfortable. Your patience, commitment, responsiveness, competence and connections in the industry all made the outcome the huge success that it is. Having never bought a new build before was a challenge, but your experience eased the process greatly. We appreciate all your efforts on our behalf and will continue to recommend you to all our friends and acquaintances as "the best Realtor we have ever worked with. Thank you!"
"Hi Rike, I just wanted to reach out and say a big THANK YOU for all of your help in selling my condo!! You made the whole process so easy and stress free and I'm so grateful for all you did for me!!"
When we say, "Nothing is out of our way for a valued customer!!!" We mean it.
As one of the metro Denver Colorado areas leading real estate teams, we want you to know that your real estate needs are number one with us. In fact, we'll treat your individual transaction as if it were our own. That includes taking care of the necessary details quickly, efficiently and accurately. It also means coordinating all phases of your transaction, giving you important facts about current Colorado real estate market conditions as well as local issues and helping you make a decision you'll be happy with in the long run.
We'll work with you on a customized approach with our proven marketing techniques to target and pre-screen prospective home buyers when you're ready to sell. Plus, we'll do everything we can to make sure your Colorado home is shown to its best advantage every time. If buying is in your plans, we'll spend the time it takes to get to know you and learn about your specific requirements. That way, you'll have the best possible selection - in the price range that's right for you!
Our services also include access to RE/MAX offices all across North America, providing more recognition of the RE/MAX name by buyers, added service benefits for sellers and a complete referral system for your relocation needs.
Give Us A Call
We know that buying and selling a home is the most important transaction in your life. So, if you are interested in buying or selling a home here in the Denver metro area, we hope you'll give us a call and place us in that position of trust. We have the local knowledge plus the professional expertise that you have come to expect. Contact us and see what it's like to work with a team of real estate professionals who will treat you the way you deserve to be treated.
Our Services Include:
Buying/Selling Colorado residential property
New Colorado home sales and marketing
Relocation to Colorado
Creative home financing
Temporary rental arrangements
Assistance for family and friends buying or selling in another area. (Even outside of Colorado.)